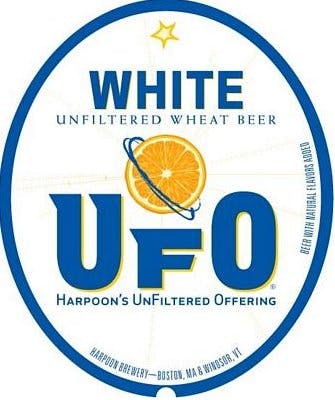 SKU: 09342
UFO Beer White
---
Unavailable
We're sorry, but this product is not currently available.
---
Light, crisp, refreshing UFO White follows in the tradition of spiced wheat beers that have been brewed in Belgium for well over 300 years. Brewed with orange peel and a unique blend of spices, UFO White is the perfect choice for a summer's barbecue, a night out with friends or any time you¹re thirsting for something a little different. Like UFO Hefeweizen and UFO Raspberry Hefeweizen, we leave UFO White UnFiltered for a more natural taste and appearance. Appearance: Hazy, golden yellow. Aroma: Strong aroma of coriander and orange. Mouth feel: On the sweeter side of wheat beers. Taste: Orangey, sweet, cracker-y wheat. Finish: Light on the palate, quenching.
There's a definite orange streak throughout this beer, with a strong wheat backbone flooding the mouth, and hints of sweet spice add complexity to the palate. The mouthfeel is chewy but spritzy, and the finish is completely clean and dry with a subtle orange essence flavor. An excellent and refreshing choice for summer sipping.